EcoFlow Delta PRO deep-dive review
_Stated Goal of Project_
The stated goal of the project is to build a simple, noob-friendly plug-n-play solution, to power a small flat/house located in Barcelona (Spain) that will run on PV (photo-voltaic) power for most of the time but can fall-back to electrical grid in bad weather conditions or when the battery is depleted.
The "all-in-one" solution will have to be extremely dependable, take full daily cycling and be able to withstand constant charging/discharging in a highly stressful environment with close to no maintenance.
I recently took this picture at the Camp Nou (FCB/Barça) while attending a champions league match.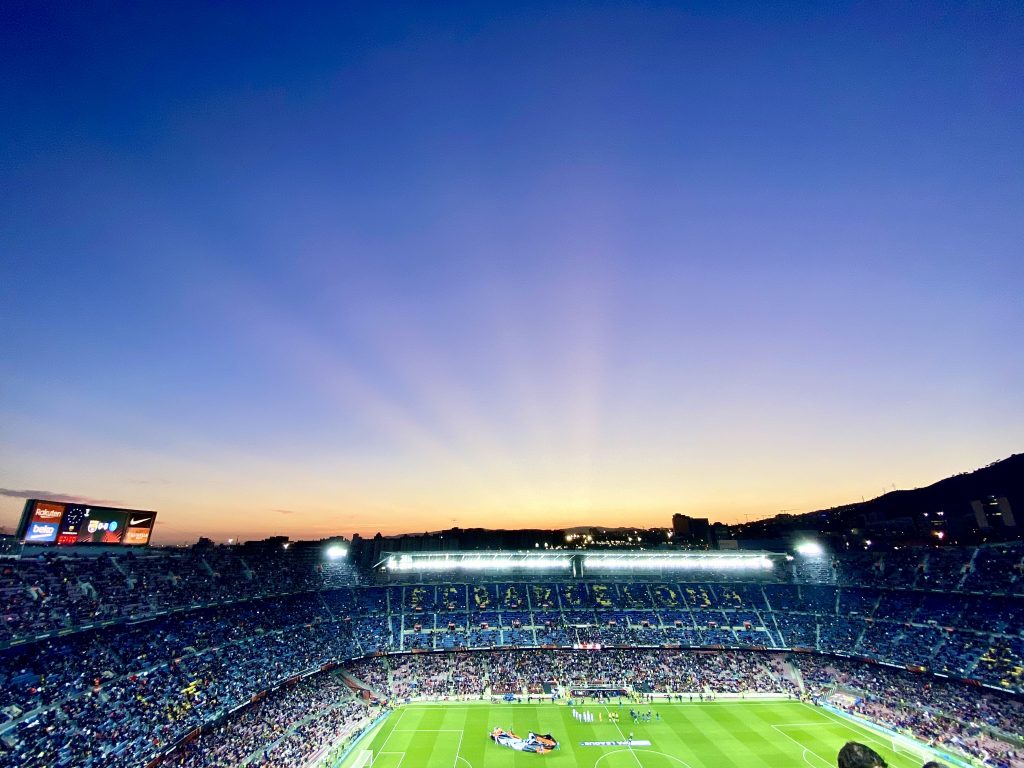 After careful review of available options, I have chosen the Ecoflow DeltaPro as the key central element for the following reasons:
Greatly Reduces the project's complexity by integrating the Batteries, BMS, Charging/Discharging, Pure Sine Wave AC Inverter, DC, MPPT charge controller, intuitive app, industry standard protections, all around management and solid track record company.
Plug-n-play simplicity that allows anyone to hook-up and handle this device.
Robust build quality in an elegant compact design.
Internals (check teardown video) look very clean well thought which gives me confidence in the quality of the design & manufacturing.
Lots of output options (AC/USB/USBC-100W/CAR/ANDERSON).
Implementation of new and improved LFP (Lithium-Ferro-Phosphate) battery technology that gives me peace of mind as it allows me to cycle it daily without having to worry about maintenance.
Multiple modular expansion options like extra batteries, DC generator, Smart Panel, etc.
Integrated MPPT solar charge controller with up to 1.600W/h charging capacity.
Integrated AC charge controller in the DeltaPRO so there's no need for external charging bricks + extra cables.
Configurable AC charging speed from 200W to 2.900W via simple app setting.
Well thought mobility options with integrated wheels & handles.
Availability of an APP to control the device at any time (BT/WIFI) and anywhere (4G) in the world.
I managed to get it at an unbeatable "SEB" Kickstarter campaign price. 🙂


The continued stellar help & support from Gloria Yang that made me perceive Ecoflow as a TOP brand which gave me the confidence to keep investing in future Ecoflow products.
Specifications of PV arrays powering the DeltaPRO:
A1 = 3 x LONGi 72HBD-540M Bifacial 540W connected in series for a total of 1.620W @ 148V/13A.
A2 = 3 x LONGI 72HPH-540M Monofacial 540W connected in series for a total of 1.620W @ 148V/13A.
Both arrays A1 + A2 connected in parallel for a theoretical total of 26A via independent AWG10 cables (10m + 15m).
Both arrays have all required protections in place and can be toggled independently via switch breakers (A1|A2|A1+A2).
Both arrays never ever reached 150V even with outside temperature as low as 3c (which is very cold for Barcelona city).
Sweet spot/optimum performance achieved at 126V/13A per array.
DeltaPRO is over-paneled 2:1 as it can reach a theoretical maximum of 1.6KW for a 3.2KW PV total.
Placement of both arrays is sub-optimal as in the months of December/January there are cast shadows from a south facing high wall. From February on, I'm seeing increasing production that exceeds 8KW/day with a projected total production of > 16 KW/day, limited only by the DeltaPRO as the array could easily produce 25+ KW/day.
I'm testing sunlight conditions with a prosumer weather station that has recorded readings as high as 1.027W/m2 for the first half of March! :O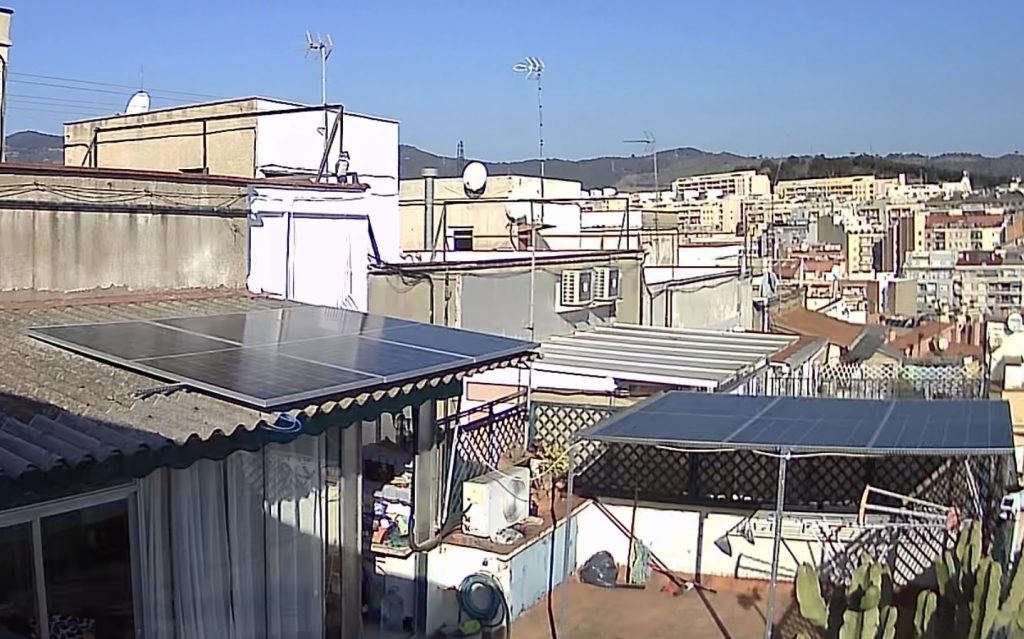 As of this writing, the DeltaPRO has been running 24/7 for more than two months and over 58 charge cycles powering an isolated room via an ATS (Automatic Transfer Switch) with a winter daily consumption of 3 to 6 KW and a projected summer one of > 12 KW.
_Delivery – Unboxing – First Impressions_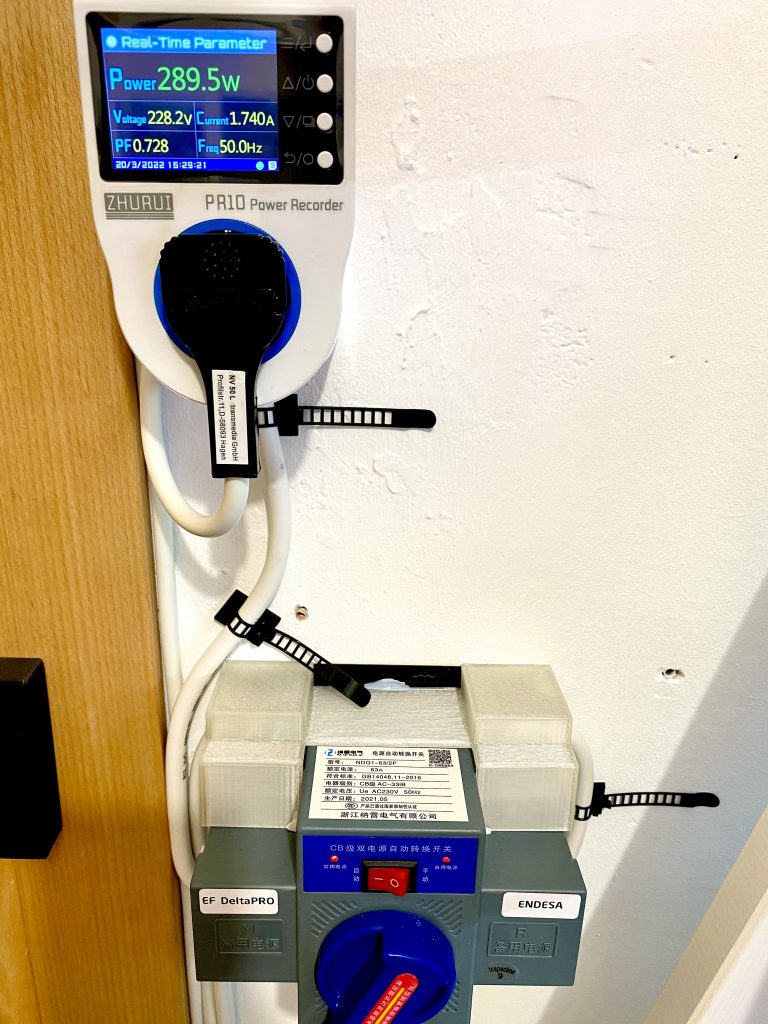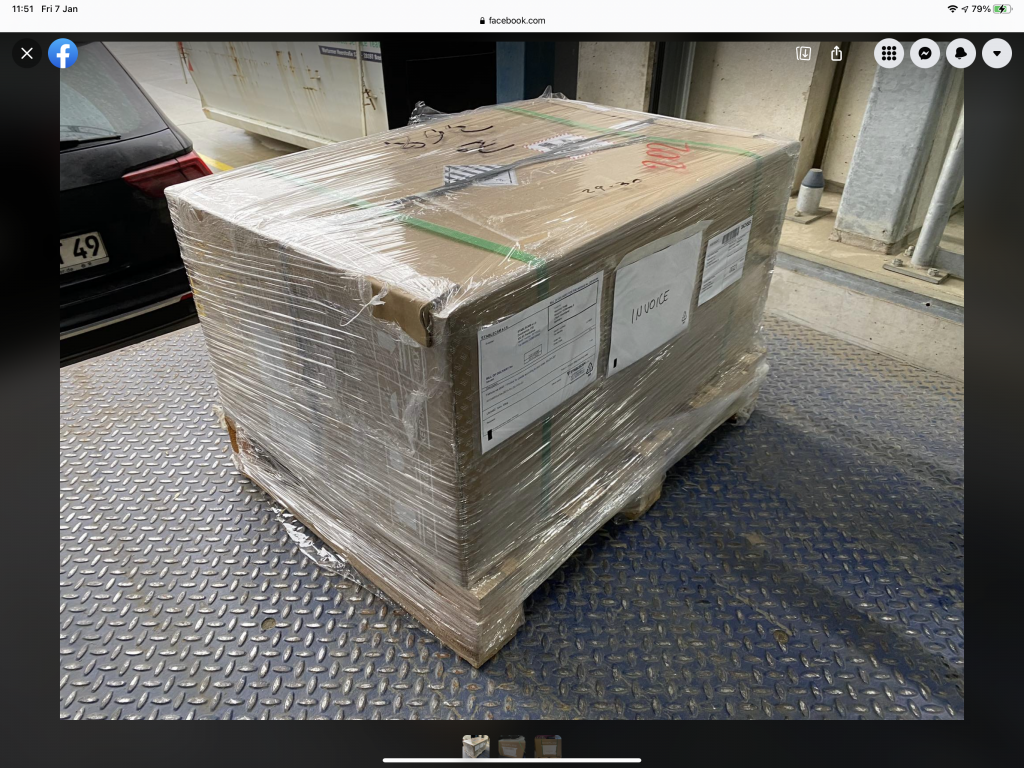 On the 11th of January 2022 I received a beautifully packed pristine looking DeltaPRO on top of a half-pallet that had been sent a few days before from the Czech Republic by Stablecam via DACHSER. I want to commend Stablecam employees for doing a great job packing & shipping such a huge amount of DeltaPROs all over Europe and also thank Andrew & Jon for always being helpful and answering all my questions ,-)
If you buy the unit, I recommend getting a trolley and a buddy to help out as this is a big & heavy item with a 56 Kg (way-bill) declared weight.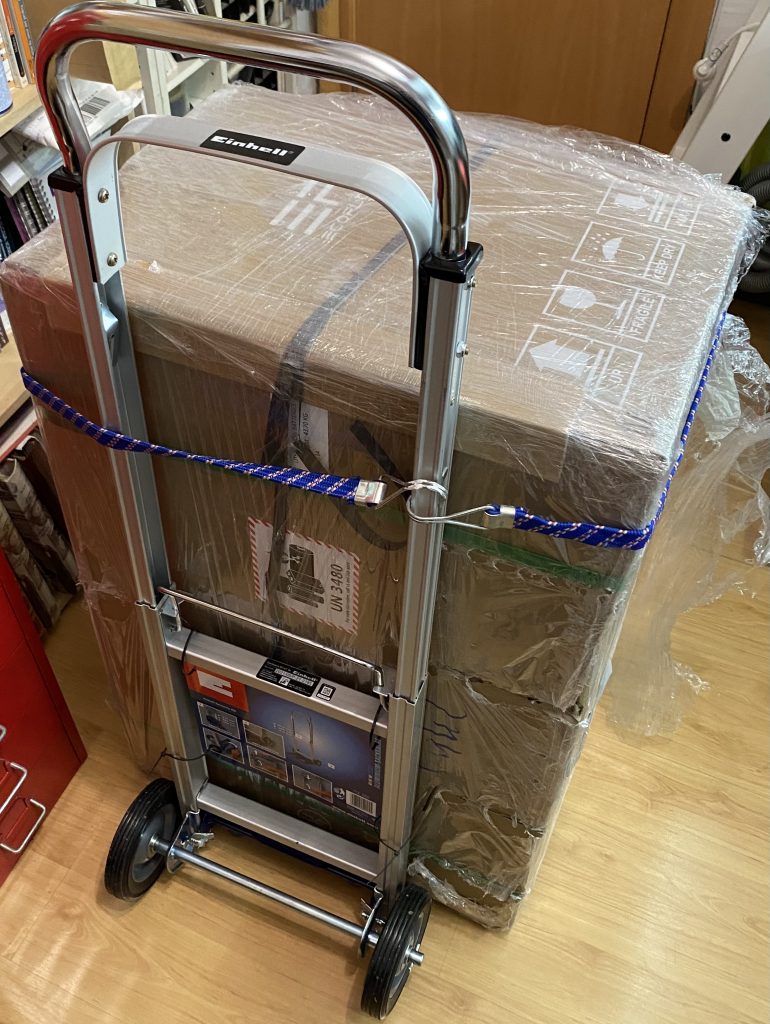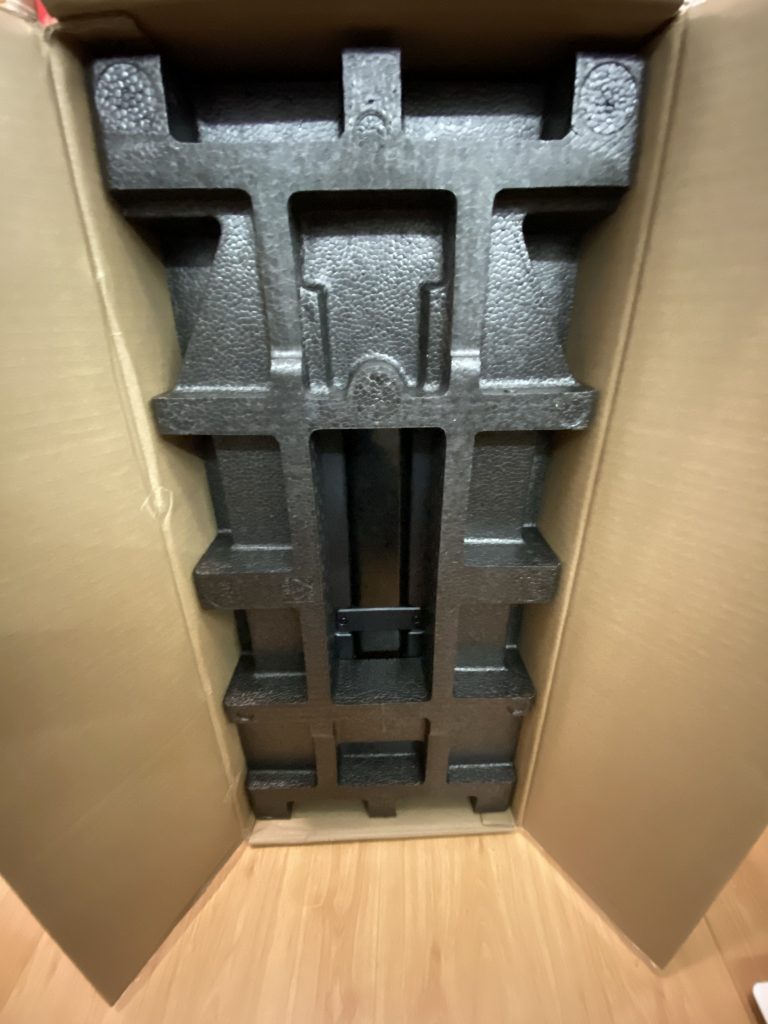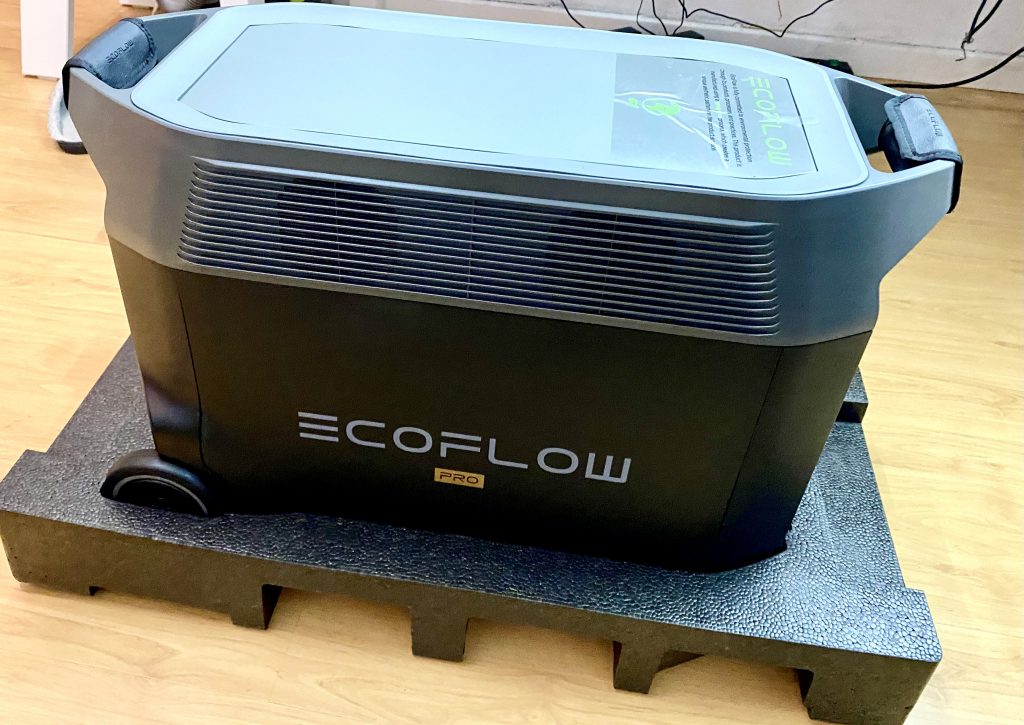 The DeltaPRO is nicely packed with very thick cardboard and heavy duty foam padding on the bottom and top parts of the unit but the middle section could use some kind of protection as I've seen some DeltaPROs (mainly NA & not on half-pallet) suffer substantial package damage with breached cardboard; yes the DeltaPRO is really tough but no one likes to receive it in a smashed package.
If you are alone and want to take out the DeltaPRO from the box, I recommend following these instructions to avoid having to lift the DeltaPRO as it is a heavy unit:
Open up the top side of the DeltaPRO box (cut the tape as usual).
Spread the sides of the box open and slowly flip the box to it's side then to it's bottom.
Don't worry as having the DeltaPRO upside down won't affect it at all as everything in the DeltaPRO is solid.
Now that you have the DeltaPRO box upside down, pull the box up and you should see the DeltaPRO .
Take the top facing foam protection out and slowly flip the DeltaPRO to the upright position.
PS: I first saw these instructions at Ecoflow FB forum but I'm unable to find the specific post to link to so I'd be grateful if someone does! 🙂
I want to congratulate Ecoflow design team for their forward thinking and attention to detail as the DeltaPRO has a compact, elegant and functional design: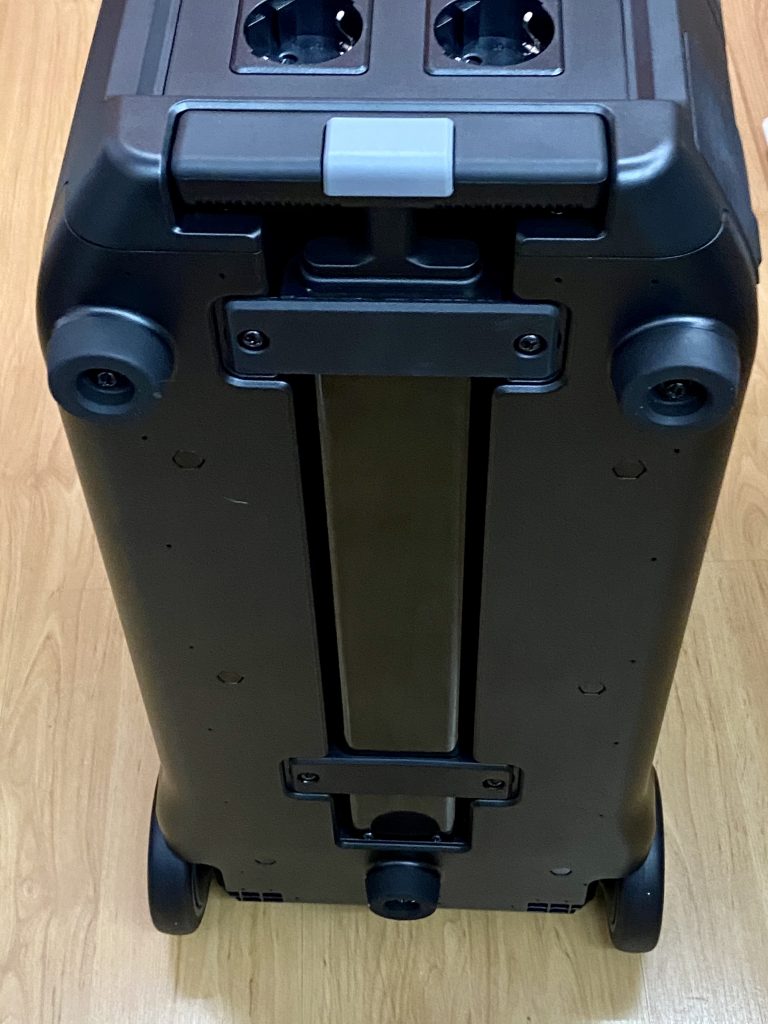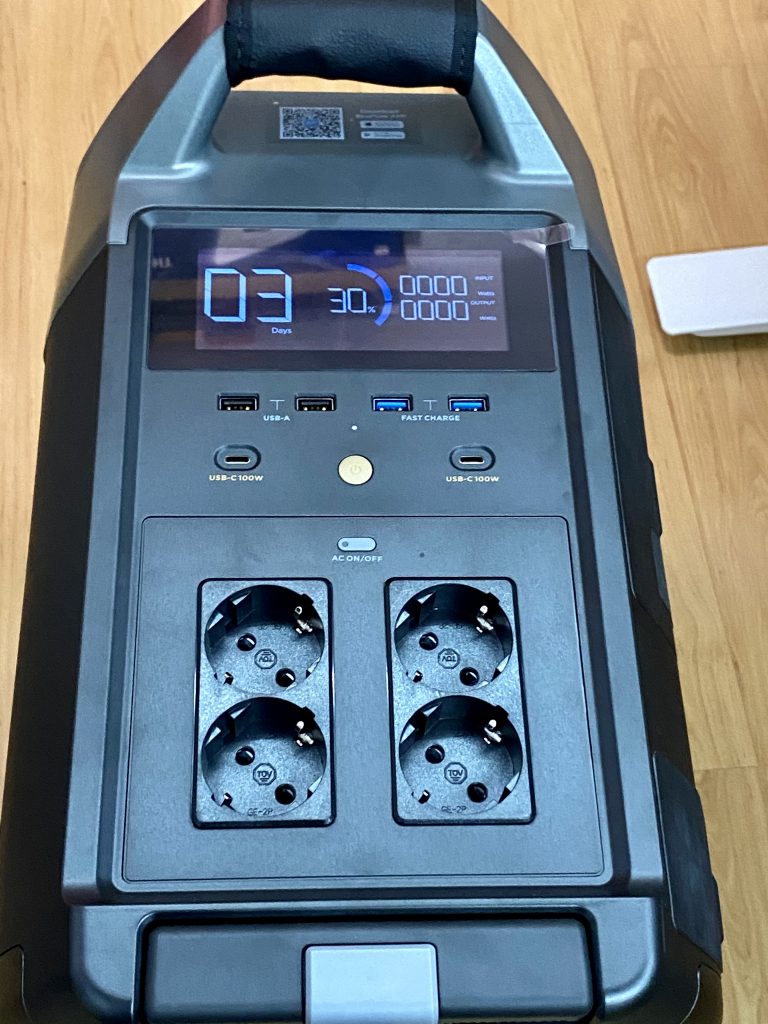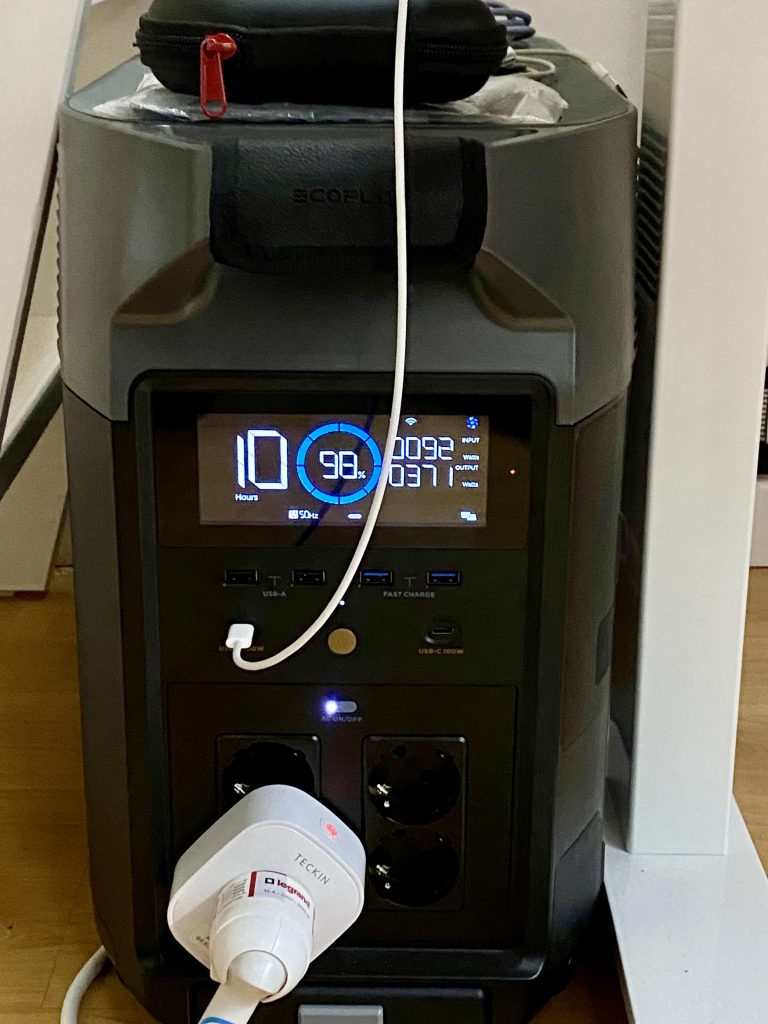 The DeltaPRO has two sturdy wheels and an integrated sliding telescopic handle to effortlessly move it around like you would do with you typical wheeled luggage suitcase… GENIUS! 🙂


It has three small heavy duty rubber pegs on the bottom of the DeltaPRO to lift it from the ground so it won't slide over when you're plugging/unplugging cables.


The front LCD panel with auto brightness (or manual control if you prefer) presents relevant information in big letters that is intuitive & easy to understand by anyone.


The front panel has only two buttons which ensures people won't get overwhelmed with too many options when they operate the unit for the first time.


All extra connections and buttons/functionality hidden behind flappy doors.
NOTE: When gathering information for the project to decide which device to choose, all the YT videos I saw showed the flappy door hanging and not closing properly so I thought it looked very ugly and cheaply designed but once I got the unit I instantly realized that it is correctly designed; you just need to line up the notches to their correct position and press the door until you hear a clicking sound so it sits flush.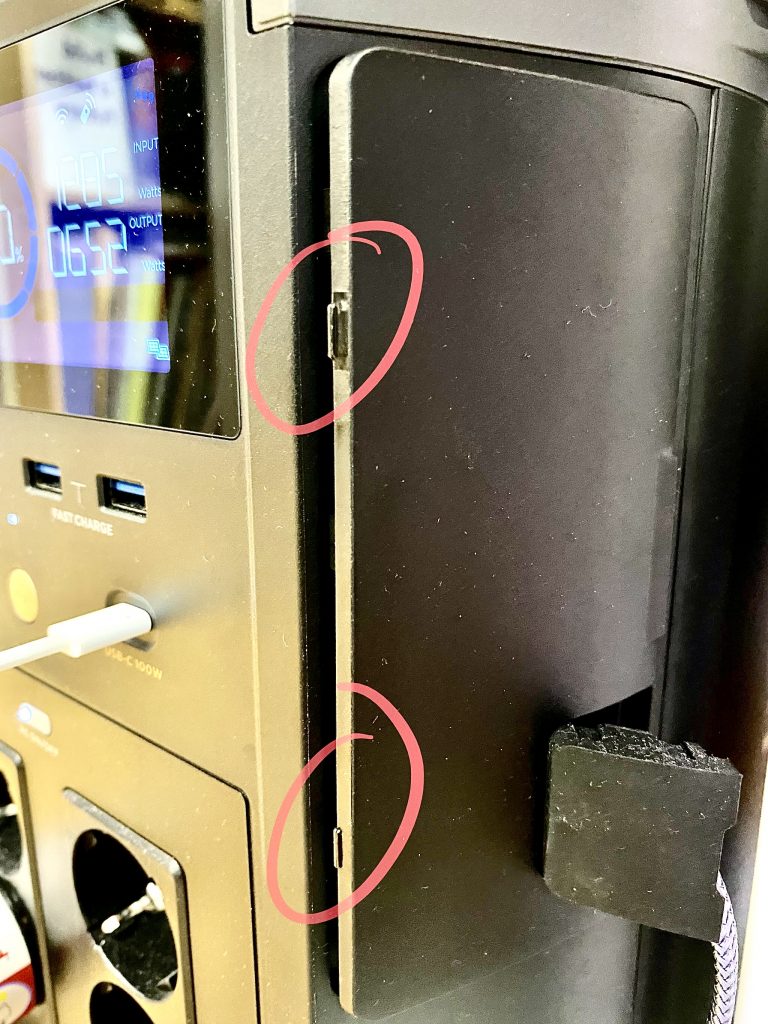 My DeltaPRO, manufactured on 2021-10-30 with a gross weight of 48.10 Kg, reached me with FW 0.1.0.0 and 30% remaining capacity (so 0% lost in 2 months).
I turned on the unit and did a brief initial test of AC OUT/IN, MPPT & USB to check that nothing was broken.
Next I downloaded/installed/configured/connected the Ecoflow APP to the DeltaPRO and renamed it to MiTHRiL 😀