Delta PRO Firmware 1.0.0.96 Review
Please read the deep dive review article about the DeltaPRO if you haven't done yet HERE.
Want to know how the Delta PRO performed after more than 6 months of continuous use? Read the detailed article HERE.
Firmware .96 was released on the 6th of July 2022 with the following fixes:
Optimized the problem whereby the actual DC charging current value exceeds the app limit value.
Fixed the problem of unbalanced DVH output voltage.
Compatible with EcoFlow Wave.
Fixed the problem where the remote control Bluetooth unbinds when the main computer is idle for a long time.
Fixed the problem where the remote control flashes abnormally when the screen lights up.
Optimized the problem of 121 error code in EPS mode.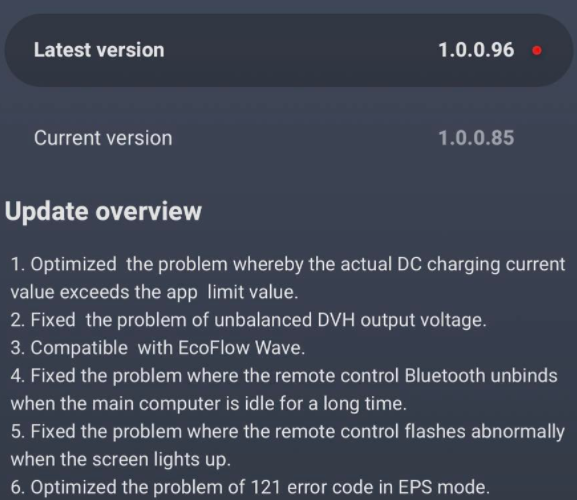 After the recent debacle with previous FW .85 and being one of the very many affected by the infamous "Error 121" that killed my DeltaPRO, I will refrain from updating for the time being and let the brave souls over at FB do the alfa/beta testing and wait to see how things play out.
Checking the posts over at FB (at time of writing this post):
(2) One user reports that he has better results with the balancing; I say marginally because before the update they were truly bad so it is better but short of the target of an even split.
(5) One user reports that the issue where the remote blinks every x seconds is not resolved for his unit.
(6) For now no brave soul has ventured into doing a REPRO and seeing if truly error 121 has been solved although by the wording I would presume the error is not "fixed" but more like "avoided" maybe with some extra safeguards? … only time will tell I guess…
Those who have done the update report that it took them on average around 12 minutes and they had no issues so at least that's a positive thing.
Keep an eye on this post as I'll update it whenever I see new info related to .96
We're already in October 2022 and people are still reporting the dreaded 121 while on this latest (as of this writing) firmware.
You might want to read this article HERE as there's a whole section explaining the specific details of ERROR 121.